Coming up with the best blush colors for your skin tone was actually much easier than I expected. I am so lucky to be surrounded with such diverse people that I have already given advice to you on this topic. It feels great to know that your advice on the color of blush to choose from is valued. So here are my favorites for all different skin tones.
Fair Skin: Pale skin is probably one of the easiest skin tones to get the just back from the gym flushed look. You will want to look for a pale pink like this one from tarte Amazonian Clay 12-hour blush in the shade Dollface that has over 3,000 reviews and almost 5 stars on Sephora.com. Some other choices include a favorite from Nars cosmetics called Angelika that has the cotton candy color dialed in.
If you are looking for more of a peach tone which is the most universally flattering on all skin tones. Look for one with a more orange or yellow undertone. You want a formula that's sheer and bendable but will also look most natural. Satin or sheer work best and always test it by using your finger over the surface of the powder. If you feel like it's too heavy and chalky steer clear as it might not be the best option.  You can't go wrong with a shimmery peach like the one pictured below by Becca cosmetics in the shade Flowerchild.
Medium Skin: Most medium skin tones have warmth so you only need slight enhancement. I love a good apricot with a tinge of orange. It may not show up as much as you like but that is a great reason to do a smokey eye or bold lip. I actually have medium/olive skin and Mac cosmetics Peachtwist is my go to when I do a red lip and just mascara.
If peach is too boring for you and you want more oomph then go a little on the wild side and look for a Mauve. The shade gives depth to medium skin and brings out features. You can always do a full face of mauve colors but peach may look a little clownish. Just be sure to vary the mauve so if you are going light on the cheeks do a dark eye and gloss. My go to mauve color is actually from the drugstore and costs less than $10, it's by Milani cosmetics in the shade Romantic Rose.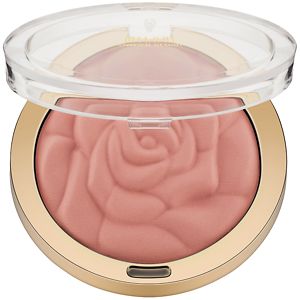 Olive Skin: Olive skin needs a shade that is not too bright and not too shadowy. Rose is the color I find falls in the middle range between shading too much of your cheekbones and not enough.  For olive skin you want a very natural flush or you risk looking like Cleopatra. For a long lasting flush of rose I would go for Too Faced Love Flush Long Lasting 16-Hour Blush in the shade Love is Your King. It will give your skin that will give you that flushed heart is racing for the man of your dreams look.
Olive skin can be tricky when it comes to finding the perfect balance between looking ruddy and natural. In some people with olive skin the rose just makes them look more like skin has packed way too much on. In those cases opt for a more subtle peach and try on a cream formula. I really like Make Up Forever HD Blush in the shade color 225 – peachy pink and if that one is too light for your skin then try this.
Dark Skin: Dark skin is probably the trickiest of all to find the just right shade. If you go too dark you risk look muddy or ruddy and then you have to start all over with a new shade. The key to finding the right shade is to go bright. I love a bright pink shade but you have go light with your first application. Some bright pinks like color NBL 01 – bright rose by this new brand called Black Up is perfect.
Deep brick can be gorgeous on dark skin but over apply and you will have the same issues ruddiness and too much product. Brick tends to be more red than brown and that can pack a little more punch. There are two brick colored blushes in this
Elf Cosmetics
 blush palette and for under $10 even if you decided those two shades aren't for you there are two others.
Hope you enjoyed my round-up of blushes to suit your skin type! Xoxo and please feel free to share your favorite shades!
0